Ideal for the domestic environment and designed for use on internal doors, the Sprint has recently been revamped and a new range of options are available so you get the right version to suit your requirements.
Still available with a light grey plastic cover, there is now the option of an aluminium cover for a more elegant appearance.
The battery is now an optional item rather than always being included, so where it is not needed you can make a saving.
There is also a version available without transformer, so you can power it directly from a 24VDC power supply.
Suitable for use on internal doors weighing up to 80kg, Sprint is the ideal choice for domestic applications.
Ideal for domestic environments or other light duty applications
Easy to install and quick to set up
Choice of plastic or aluminium cover
Battery back-up options
230V AC or 24V DC versions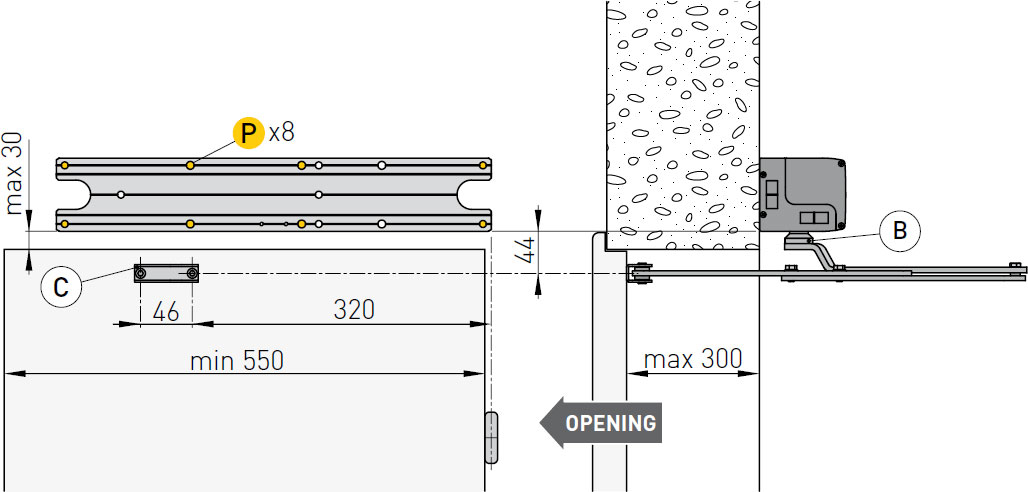 SBA
Articulated Pushing Arm
BRAS
Articulated Pulling Arm for Recess Doors
SPRINT PN - P - V
SPRINT LN - L - LV
Power V
230Vac~ 50/60 Hz
24Vdc (to be protected
with an external fuse)
Power A
0.5 A
3 A
Power W
120W
Torque
25 Nm
Insulation class
Class 2
/
Opening time
min 3s /90°
max 6s /90°
Closing time
min 4s /90°
max 7s /90°
Service class
5 - VERY INTENSE
Intermittence
S3 = 80%
Type of operation
Motor opening
Motor closing
Max load (door wing 90cm)
110kg (PUSH)
100kg (PULL)
Max load (door wing 1.2m)
70kg (PUSH)
55kg (PULL)
Temperature
min -20°C max +55°C
Temperature with batteries
min -10°C max +50°C
Degree of protection
IP30
Control panel
EL38
Power supply
AL05
/
F1 fuse
F1A
/
Motor output
24Vdc 3.5 A
Power supply for accessories
24Vdc 0.3 A